Business Wire India
Medical Discovery Platform Practo Wins Consumer Internet Company of 2017
Multiples Alternate Asset Management and Blume Ventures Awarded Fund Raisers of the Year in Private Equity and Venture Capital Categories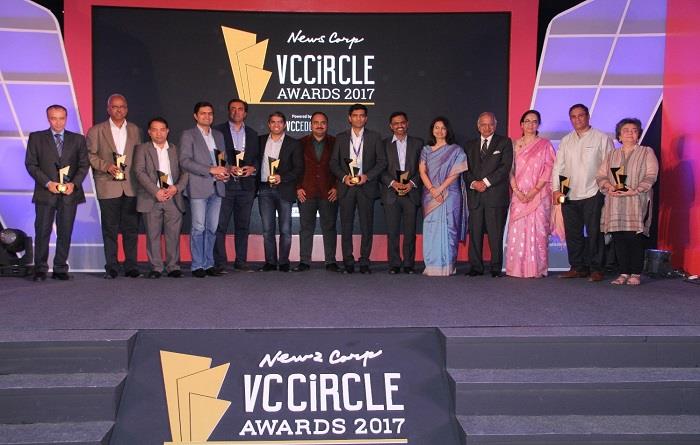 News Corp VCCircle, India's leading publisher of alternative investment, deals and startup news, data and information has announced the winners of the 6th News Corp VCCircle Awards held in Mumbai.
The awards, which are the pre-eminent honors for disruptive and fast-growth business in the startup, private equity and venture capital ecosystem, had prominent international and domestic private equity fund managers, limited partners, and top executives of investment banks, accounting and law firms in attendance.
The Winners of the 12 Awards categories this year were:
Enterprise Awardees:
Consumer Internet Company of the Year: Practo Technologies Pvt. Ltd.
Education Company of the Year: Simplilearn Solutions Pvt. Ltd.
Financial Services Company of the Year: RBL Bank Ltd.
Healthcare Company of the Year: Thyrocare Technologies Ltd.
Infrastructure Company of the Year: ReNew Power Ventures Pvt. Ltd.
Consumer Company of the Year: Suminter India Organics Pvt. Ltd.
Investor Awardees:
Fund Raiser of the Year – Private Equity: Multiples Private Equity Fund II LLP – Multiples Alternate Asset Management Pvt. Ltd.
Fund Raiser of the Year – Venture Capital: Blume Ventures India Fund II – Blume Venture Advisors Pvt. Ltd.
Investment Bank of the Year – [Private Equity/Venture Capital]: EY India
Exit of the Year: MakeMyTrip Ltd. – Saif Partners
Active Impact Investor of the Year: Aavishkaar Venture Management Services Pvt. Ltd
Law firm of the Year – [Private Equity/Venture Capital]: AZB and Partners
The award winners were decided by a jury comprising
Arun Duggal
– Chairman, ICRA;
Mohandas Pai
– Manipal Global Education;
Uday Shankar
– Chairman and CEO, Star India;
Anjali Bansal
– Global Partner and MD, TPG Growth;
Ireena Vittal –
former partner with McKinsey & Co and
Padmanabh 'Paddy' Sinha
– Managing Partner (Private Equity) Tata Capital.
The winners were decided after their performance during the year was scrutinised against industry-specific benchmarks and peer group performance besides judging financial performance on parameters including growth in revenue and profitability and return on investment. Companies were also assessed on qualitative aspects such as brand value, existing and estimated market share, business models and impact of products on the industry and the economy.
Speaking at the awards ceremony, Nita Kapoor, Head – India New Ventures, News Corp & CEO, News Corp VCCircle said, "2016 was a year that can best be described as a year when both investors and fund raising companies had to go through the proverbial Trial by Fire. The winners of this year's enterprise awards have proved that focus on business fundamentals and ability to deliver value to the end user continue to be the key ingredients for success."
Notes to the Editor
About News Corp VCCircle
News Corp VCCircle runs financial news website VCCircle.com, a startup news site Techcircle.in, and the financial data platform VCCEdge. The network also conducts India's leading investment focused conferences and runs an executive training business for corporate, legal and finance professionals. For more information: http://www.vccircle.com/
About News Corp
News Corporation (NASDAQ: NWS, NWSA; ASX: NWS, NWSLV) is a global, diversified media and information services company focused on creating and distributing authoritative and engaging content to consumers throughout the world. The company comprises businesses across a range of media, including news and information services, book publishing, digital real estate services, cable network programming and pay-tv distribution. More information is available at http://www.newscorp.com. In India, News Corp owns Mosaic Media – the parent of VCCircle Network, BigDecisions.com, and is the largest shareholder in Elara, the Singapore-based parent of PropTiger.com and Makaan.com.